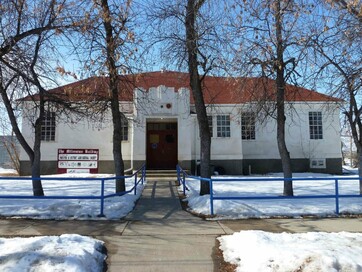 The Village of Innisfree Public Library was originally established by the Village of Innisfree Council in December of 2010 pursuant to Bylaw 573-10. The Library is located in the Historic Millennium Building located along Secondary Highway 780, just north of the Innisfree Delnorte School.
The Library Board and the Librarian offer many programs throughout the year and have an excellent collection of books onsite for readers.
Visit: Innisfree Public Library
Born To Read Program
Available to new parents! Each family will receive a handmade, re-usable bag lovingly sewn by the Innisfree Quilting Queens. These bags are filled with information for the new parents, as well as books to share with your new little one!
Books To Go Program:
Cinch Sacs, pre-filled with 10 different books for children. No browsing shelves with impatient kids! Just grab and go! 10 different bags available. 
Online E-resources - E-Resources
The Do-It-Yourself Databases are now accessible from the comfort of your own home! These include:
Hobbies and Crafts Reference Center
Home Improvement Reference Center
Small Engine Reference Center
Auto Repair Reference Center
Ancestry.com
Tumble Books
Cypress Resume
They are accessible through both the Library website and the NLLS website
The Village of Innisfree is a member of the Northern Lights Library System (NLLS.) The membership enables residents to borrow books, magazines, games, videos, music, etc. from a nearly unlimited resource.