Website Terms of Use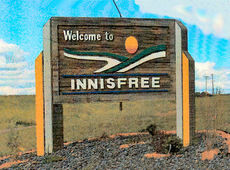 About The Village of Innisfree Alberta
The Village of Innisfree Alberta Canada
Good things come in small packages! Innisfree is a community full of recreational variety and opportunity. The community houses a natural ice arena, a curling rink and several different baseball fields. This quiet village is also close to Wapasu and Birch lake, which allows residents as well as visitors access to water recreation.

With a village population of 250 and rural district approximately 1250. Innisfree is the perfect place to enjoy the lifestyle of a quiet, friendly country village, interesting local history, and nature's beauty.

Discover it for yourself. Whether you're planning to enjoy Innisfree for a day or a lifetime, we guarantee a warm welcome.
Agriculture and oil industries
School- kindergarten to grade 12
Hi-way Cafe, truckstop and gas station
Fire and 911 service
Post office and bank
Hotel and lounge
Bottle Recycling Depot
Recreational and cultural Centre (Seating Capacity- 500)
Social clubs
Senior Citizens Recreation Centre and Hall
Churches