View All News
Provincial Day of Mourning in Tribute to the Late her Majesty Queen Elizabeth II
September 15 2022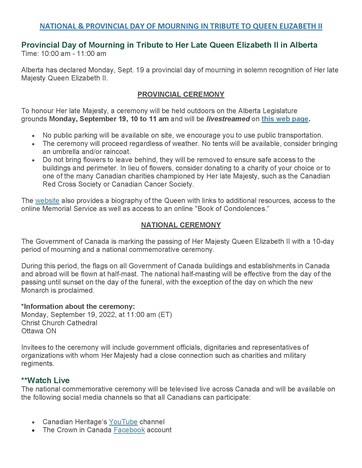 Alberta has declared Monday, Sept. 19 a provincial day of mourning in solemn recognition of Her late Majesty Queen Elizabeth II.
PROVINCIAL CEREMONY
To honour Her late Majesty, a ceremony will be held outdoors on the Alberta Legislature grounds Monday, September 19, 10 to 11 am and will be livestreamed on this web page.
No public parking will be available on site, we encourage you to use public transportation.
The ceremony will proceed regardless of weather. No tents will be available, consider bringing an umbrella and/or raincoat.
Do not bring flowers to leave behind, they will be removed to ensure safe access to the buildings and perimeter. In lieu of flowers, consider donating to a charity of your choice or to one of the many Canadian charities championed by Her late Majesty, such as the Canadian Red Cross Society or Canadian Cancer Society.
The website also provides a biography of the Queen with links to additional resources, access to the Memorial Service online and access to an online "Book of Condolences.
NATIONAL CEREMONY
The Government of Canada is marking the passing of Her Majesty Queen Elizabeth II with a 10-day period of mourning and a national commemorative ceremony.
During this period, the flags on all Government of Canada buildings and establishments in Canada and abroad will be flown at half-mast. The national half-masting will be effective from the day of the passing until sunset on the day of the funeral, with the exception of the day on which the new Monarch is proclaimed.
*Information about the ceremony:
Monday, September 19, 2022, at 11:00 am (ET)
Christ Church Cathedral
Ottawa ON
Invitees to the ceremony will include government officials, dignitaries and representatives of organizations with whom Her Majesty had a close connection such as charities and military regiments.
**Watch Live
The national commemorative ceremony will be televised live across Canada and will be available on the following social media channels so that all Canadians can participate: