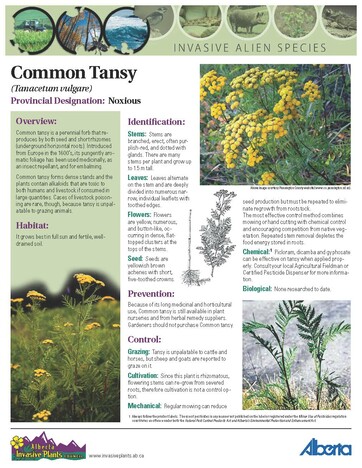 Due to the problem with weeds within the Village of Innisfree, Administration must take action. 
One of the biggest problem weeds in the area is Tansy.  It is mandated by the Province that we must control weeds such as Tansy, which is considered both invasive and noxious.  Plus Tansy is toxic to some animals.
The Village will try to control the weeds first, by mowing so they do not go to seed.  However, if that doesn't work, the Village may have no choice but to spray.   
The Weed Control Act states that all prohibited noxious weeds must be destroyed. 
Also under the Weed Control Act, a person can be forced to destroy or control prohibited noxious or noxious weeds, even if they are on private property.  
And, as per the Weed Control Act, if the municipality does not take action against all noxious and invasive weeds,  the Minister will do so themselves.  Salary and expenses incurred by the Minister for an inspector appointed to enforce and monitor compliance of the Act on behalf of a municipality are a debt due to the Minister by the municipality.
The Minister may recover these expenses by withholding money from a grant or other money payable to the municipality by the Crown or by bringing an action in debt.  The attached fact sheet has more detailed information on the Tansy. 
View the Weed Control Act HERE